A while back
I mentioned that I had a story to tell you about Milani. This is that story! It has all the elements of a classic: longing for HTF shades, triumph, redemption...and of course, nail polish.
Way back when I discovered the nail board on MUA, there was a Milani collection called (I think) Vintage that had been out for a while and was just beginning to disappear from stores. As you may know, limited edition collection from normally ETF brands (Milani, WnW, Maybelline, Sally Hansen) can actually be quite HTF in a way, due mostly to the peculiarities of distribution in different parts of the country. Add to this the differences in which product lines are carried in which stores and you may find yourself wandering like a lost soul from Rite Aid to Rite Aid, searching high and low for a temporary display of $2 nail polishes, which often only contain 1 or 2 bottles of each color and are rarely restocked. It's maddening, to say the least.
I have the most luck with Milani (which is actually $5 nail polish) at CVS. Walgreens carries the line, but the ones around here don't seem to get the special collections, and Rite Aid doesn't carry the line at all. So although I looked and looked, I came up empty on the Vintage collection. Primarily I wanted the gray, light blue and green from the collection. I put them on my wish list and tried to swap for them, but to no avail. Someone did eventually swap with me for Vintage, the taupe from that collection, but I could never get hold of the other three colors.
Then! I was on MUA the other day and someone mentioned that Milani had re-released the
whole Vintage collection
. It took about point-one seconds for me to order the three colors I wanted from the Milani site. Happily, they arrived over the weekend.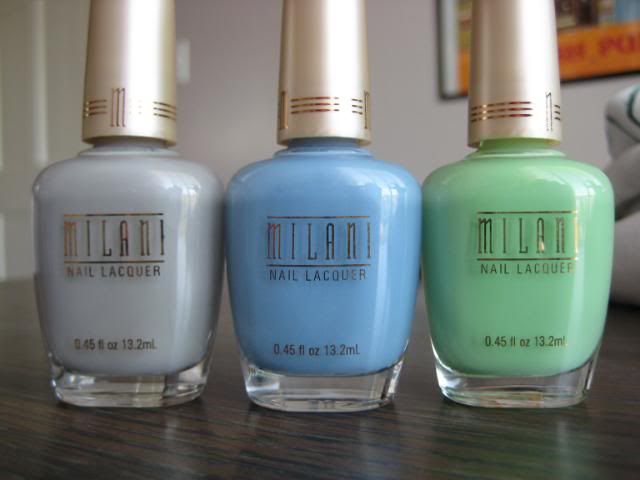 Timeless, Antique, Original.
Here they are with the Taupe, called Vintage.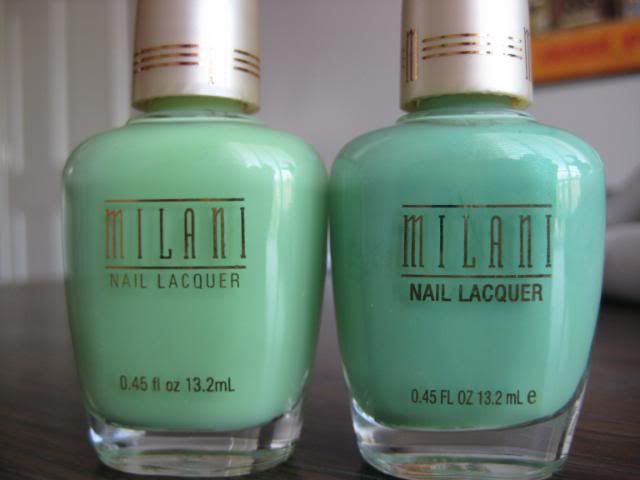 This is Original on the left with Dress Maker on the right. Dress Maker is
reportedly a dupe - or near dupe - to Chanel Jade
.
I haven't tried any of these shades on yet, but I was very happy to find them!