A while ago
Sally Hansen
introduced these Salon Effects nail polish strips, which are designed to last up to 10 days. They are available in patterns, solid colors and glitters. The look is similar to
Minx
, which you've probably seen on Beyonce or Katy Perry. The strips allow you to get the Minx-like look at home for a fraction of the price (however, the process to apply them is different).
I purchased a set of these (a bright flowered pattern) several weeks ago but had yet to try them. Then I found a coupon in this week's
Red Plum
mailing for $2 off the strips. I also had some CVS ExtraBucks laying around, bringing the cost of the strips down from $10 to $5.50. So I picked up the Kitty Kitty pattern, a metallic leopard print.
I am nothing if not subtle!
With some spare time on my hands (har har) Tuesday night, I decided to give the leopard print pattern a go. Here's what comes in the package with the nail polish strips: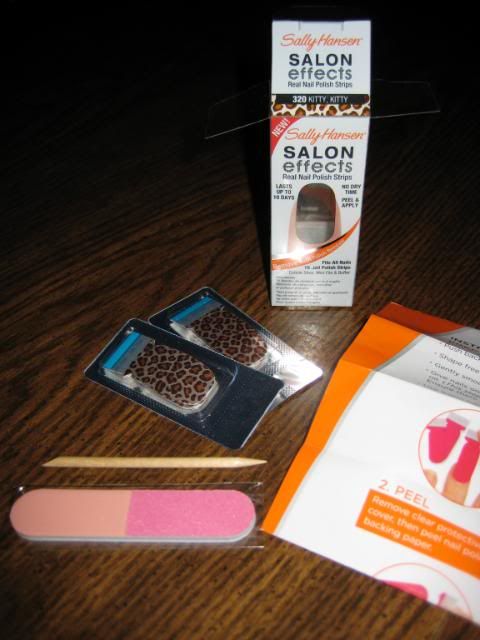 16 nail polish strips, mini orange stick, mini file/shaper and instructions. The picture in the instructions indicates that you can just gently file off all the excess nail polish strip, but I suspected I might need scissors, so I got a wee pair out to do a bit of trimming.
The strips were not hard to put on at all, but it did take me some time - nearly an hour. They're not overly delicate, but you do have to be careful not to gouge them if you're using the orange stick to smooth out the wrinkles. And if your nails are very curved, you will have to be careful not to wrinkle the strips.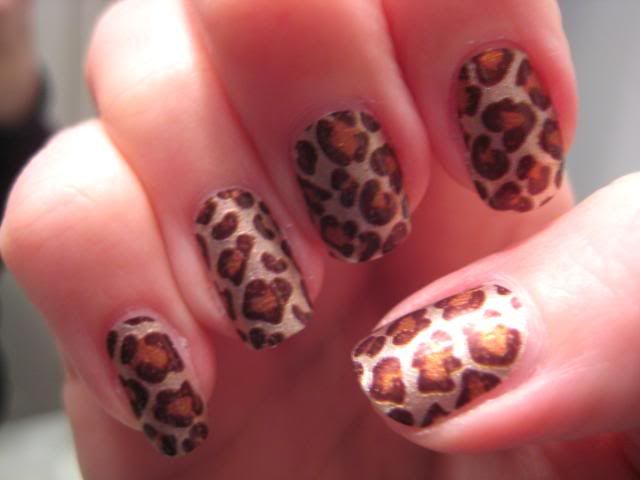 I was really happy with the results. It's nice to finish applying these and then just go on about your business without worrying about denting or creasing your manicure. Because I just put these on, I have no idea how they'll wear - I did put a top coat over them and used it to wrap the tips. So I'll have to report back to you about the removal process and how long these last.
Couple things: I had to trim the sides of some of the strips because there were not enough smaller strips to fit my nails. If you were careful and willing to do a lot of shaping, you could get two manicures out of one package; I don't really have the patience. The strips do get kind of stiff and difficult to work with if they're exposed to the air too long - I warmed them up by putting them between my palms or blowing on them. This just makes them a little easier to shape.
Even at full price, I'd definitely buy these again, but for me, I wouldn't waste my time on the solid colors. If I want a nice red creme on my nails I'll just take 10 minutes and paint them. The patterns are really fun, though, and I'll purchase them again for sure.
I've seen these at CVS and Rite Aid. Highly recommend!