I have some nail posts planned, but I got an order from
CherryCulture.com
last week so I thought it might be fun to talk about that.
A lot of the women on the nail board at MUA talk about CherryCulture, but this was my first time ordering with them. I ordered on February 1 and my order shipped on February 9. I received it on February 11 via USPS.
I say all this as an FYI because people seem to get awfully worked up about shipping issues. I know the immediate nature of the internet - not to mention fast shipping from places like Zappos.com - leads us to believe we should receive things instantly after buying them, but the truth is no one's figured out teleportation yet. So waiting is still part of the game.
I also liked ordering from CherryCulture because they accept PayPal (Ulta does now, too!!), which is great for when you want to order something but can't be bothered to get up and find your wallet. (I am only sort of kidding about this.)
In any event, the site was having a little sale and I found a few things I wanted to try at very agreeable prices.
I ordered the Milani Buzz Worthy lip glosses in Bee Rich and Bee Gone.
I love these! My love is due in no small part to the smell: Bee Rich smells exactly like Jolly Ranchers and Bee Gone smells like cake. Normally I'm not a fan of candy scents (too strippery) but these are fun and not too cloying.
Angled applicator/dispenser.
I did a fair bit of research on these before I ordered, so there were no real surprises. They are sticky (your hair will get caught in them) but have the color payoff I wanted and don't run down my face. Bee Rich is just spectacular - much as I would like to, I just can't wear super pigmented, rich red lipsticks, so this kind of clear red gloss is a good substitute. Bee Gone has some shimmer to it and is a nice understated shade.
I'm not always the world's biggest fan of arm swatches, but I gave it a try, just for you.
Bee Gone, Bee Rich.
I've heard a lot about NYX eyeshadows on blogs and MUA, so I decided to give some a try. I ordered Taupe, Matte Gray and Exotic Green.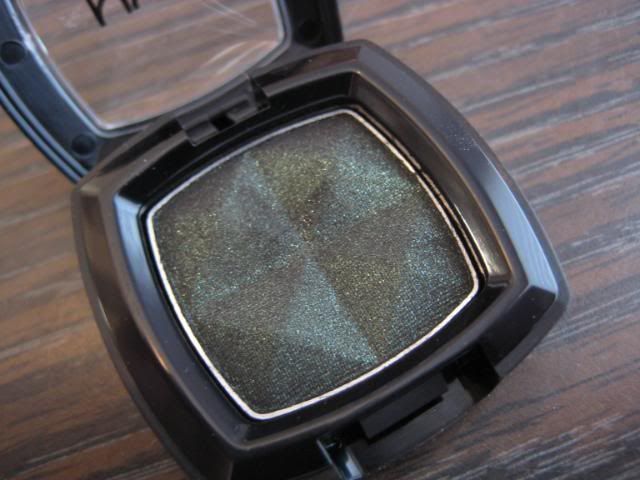 NYX Exotic Green.
Thus far I've only tried the taupe and the gray on my eyes, and I really like the taupe. Matte Grey is not very pigmented. (Based on a quick swatch on the back of my hand, Exotic Green is very pigmented.) The texture of these is very soft and velvety. I like the "quilty" look of the unused shadows although I realize that has no bearing on the quality. It's just cute.
Finally, I also ordered some nail polish (doy). I chose LA Girl colors in Hustle, Head Banging and Deep Sea Mica. I wore Deep Sea Mica already and it's a very pretty teal/green jelly.
Hustle, Deep Sea Mica, Head Banging.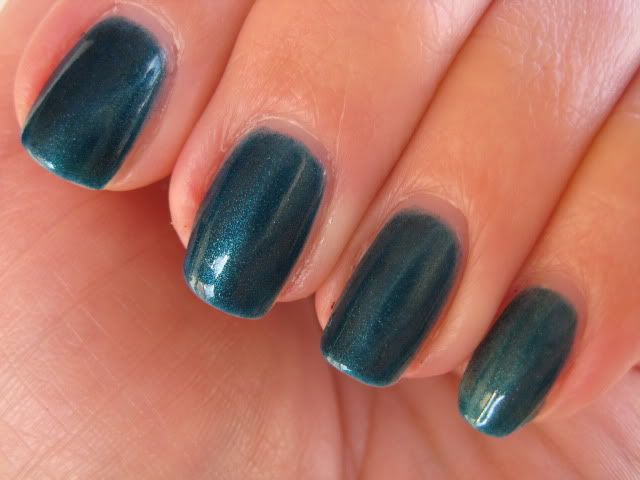 LA Girl Deep Sea Mica
I don't know what was up with me not polishing my whole nail for this manicure, unless it's the fact that my back was still hurting pretty bad when I did this and I wasn't bending over as far as I usually do. I like to get my face right down in there so I can really see where the polish is going.
As a comparison, you can see the manicure I did for Valentine's Day is much less bizarre.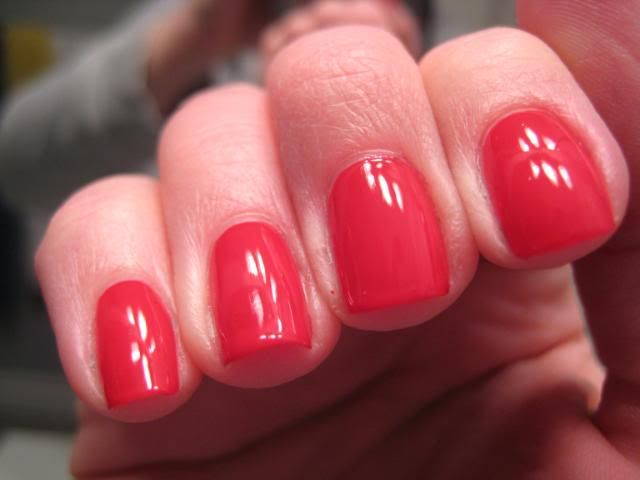 (That's OPI Big Apple Red, one of my all-time favorites. Just a great, shiny red.)
I'd definitely order from CherryCulture again and I'm really happy with all of the products I picked, particularly the Milani glosses. I've heard good things about several of their products and I think it's great they are so widely available.
Later this week, stay tuned for posts about the Misa 9-5 collection (I ordered five of them...yikes) and some nail colors from
Dr.'s REMEDY
.