Not long ago I received some information about Dr.'s REMEDY, a new line of doctor-inspired cosmetics made with clean, hypo-allergenic, anti-fungal ingredients. The website suggests that the polish is especially suited for people who suffer from nail fungus, brittle or discolored nails, those who are allergic to chemicals in commercial nail polish, for pregnant women and kids. Of course, you might also like to try it out if you are trying to be conscious of the substances you use on your body, including cosmetics. There is an FAQ with more information
here
.
The polishes are big three-free and are enriched with natural ingredients like tea tree oil, garlic bulb extract and wheat protein. These substances are naturally occurring, antibacterial and healthier for nails. The impetus for the line came about when the co-creator's wife became pregnant - you can read more about that backstory
here
.
Dr.'s REMEDY recently introduced their winter collection, which includes four colors:
- Healing Heather Grey, described as "a seductive pewter with deep blue undertones;"
- Revive Ruby Red, "a shimmer-infused, Wizard of Oz-inspired shade of crimson;"
- Desire Dark Brown, "a cocoa-meets-hot-fudge handsome hue;"
- Nurture Nude Pink, "a delicate, damsel-in-distress barely-there beautiful."
I was able to try Healing Heather Grey, Desire Dark Brown and Revive Ruby Red.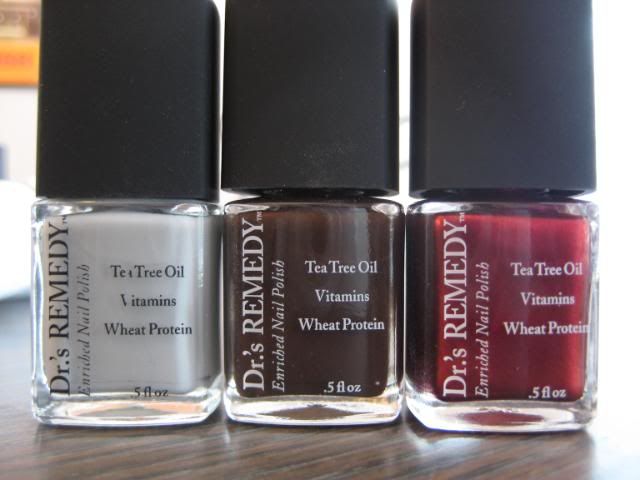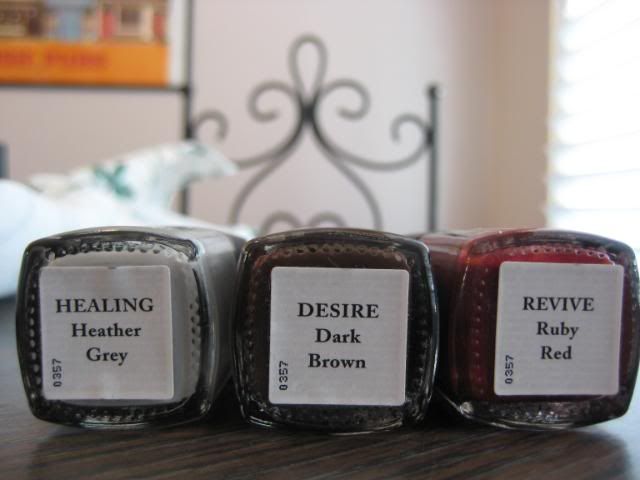 I chose to try Revive Ruby Red first.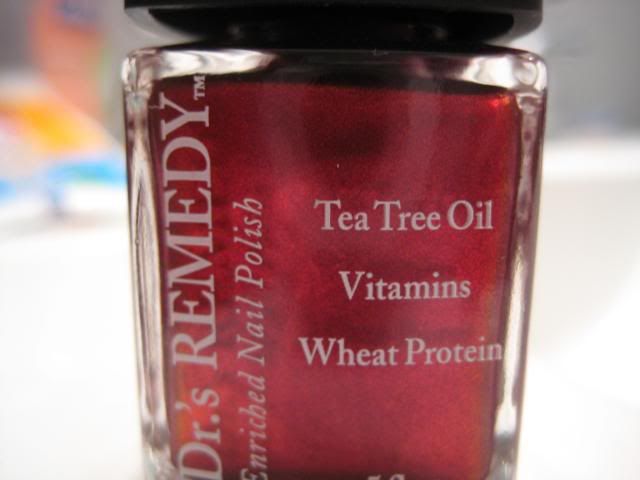 Dr.'s REMEDY polishes are packaged in square bottles with square, slightly rubberized-feeling caps. The square overcaps are removable, revealing a narrow ribbed cap that is more convenient to hold while polishing. The overcap was a little stubborn coming off, so make sure you remove it carefully and before you do your base coat, treatment or ridge filler so you won't mess up your work. The brushes are fairly standard round brushes.
(I wondered if this polish would smell like tea tree oil...but...it smells like good old regular nail polish! Perhaps a bit less intense.)
Revive Ruby Red is a beautiful color. It looks like molten glass on the nail - very deep, shimmery and gorgeous. This is a classic color, and has a lit-from-within effect that I love in a shimmer.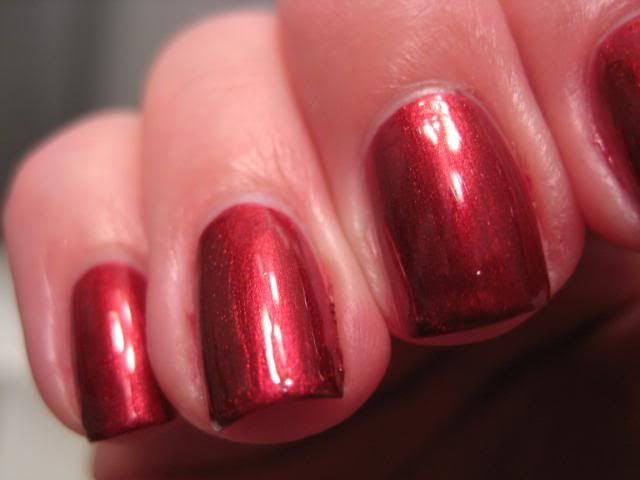 The formula for all of these polishes was good. If anything, Revive Ruby Red was perhaps a bit on the thick side. It took me a while to get comfortable with how much product I was getting on the brush. (You could just add thinner if this was a real problem for you, although that would of course add chemicals back into the formula.) I didn't have to do a lot of clean-up with this color. It was fairly easy to control. I just had some problems getting the polish to lie smooth on the tip of the nail. No cuticle drag with this color.
Here's a picture after four days of wear. Ignore the large chip on my middle finger - I cracked my nail against a kitchen cabinet so that one was kind of inevitable. Except for minor tip wear, this polish held up very well with no other big chips. It stayed very shiny.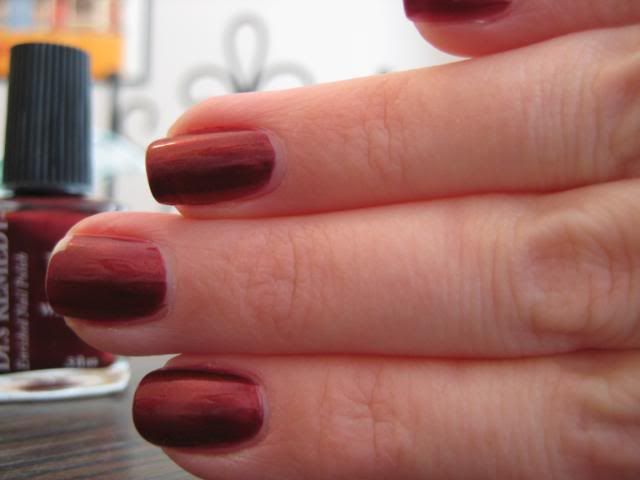 Next, I tried Healing Heather Grey. Luckily I'm a huge sucker for grey cremes so I was very eager to give this one a spin. I was totally delighted - I would almost call this a grey jelly - the finished effect had a squishy, dreamy quality! The formula on this was slightly easier to work with than Revive Ruby Red. I used two coats and my only real issue was with the brush, which had a crazy stray bristle. A quick snip of the scissors solved that.
I wore the grey for three days with no chips and very little tip wear. (With both of these manicures, I used Palladio Fuse, Palladio ridge filler and Sally Hansen Insta-Dri top coat in the red bottle.)
Finally, I swatched Desire Dark Brown. This formula was super - the picture below reflects absolutely zero clean-up. Dupe alert: in the picture, my index and ring finger are Desire Dark Brown and my middle and pinky finger are Essie Little Brown Dress. As you can see, they're quite similar. However, if you're interested in the health-conscious formulation of the Dr.'s REMEDY polishes, this is a great chic color with superb application.
Speaking of dupes: Dr.'s REMEDY Healing Heather Grey is very similar to Rescue Beauty Lounge Concrete Jungle and Misa Working Hard or Hardly Working, though it does have that jelly-ish texture that some people (me included!) find very appealing. It's really a beautiful grey color. I couldn't find any duplicates to Revive Ruby Red in my collection.
I can see these polishes appealing to a lot of people - pregnant women, people who have specific issues and concerns with their nails and, of course, people who just love nail polish and beautiful colors! (Dr.'s REMEDY has some great pinks, a purple shimmer and a bright, bold blue on their site that all look intriguing.)
Dr.'s REMEDY nail polishes $16 each and are available online at
www.remedynails.com
or by calling 877-323-NAIL.
These were sent to me for review.