I promised to share a few more
holiday colors
with you, so here you go.
On Christmas Day I wore Zoya Ginessa, a subtly shimmery silver white that looks like snow.
My mom let me do her nails with this one. I offered to do them, thinking she'd prefer clear (I've never actually known my mom to wear colored nail polish...even when we went for pedicures together, she chose sheer pink). But she surprised me by unearthing FOUR bottles of nail polish, though I vetoed them all on the grounds of being too frosty and a bit dated. So she asked for this one, which I was wearing at the time. The finish of this one is weird, it looks almost pitted though it's very smooth with a top coat.
Currently I'm wearing this: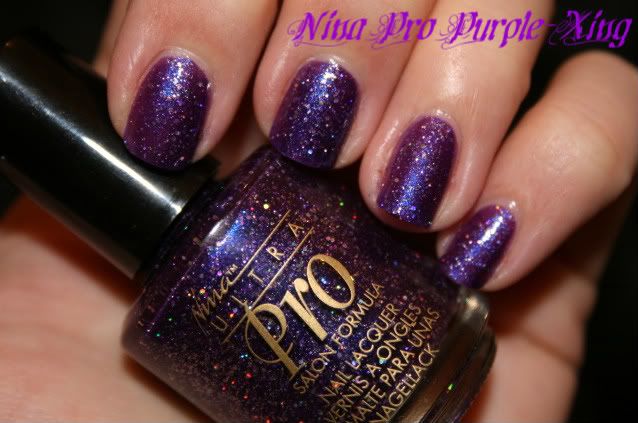 This is part of an effort to get some of my more obnoxious colors out of the way for a while because I'm starting a new job and want to test the waters with neutrals, pinks and reds before beginning the parade of greens, blues and glitters that I will inevitably want to wear. I don't see it being a problem but I don't want my first impression to be Blue Glitter Fingernail Girl, so I'll take it easy at first and share those colors with you as well. Anyway, this color is called "Purple-Xing," which I don't mind telling you drives me nuts. Is it purple ex-ing? Purple Crossing? Purple Zing? And why is that hyphen there, it doesn't even make any sense. Ultimately it doesn't matter I suppose because the polish is amazeballs -- purple jelly loaded with large and small silver holo glitter. This would be great for New Year's, I think.
Or really any time of year...as long as you're not starting a new job.