So....I've been kind of bad about taking pictures of my nails lately. I know, I know, bad addict. Bad addict! I think I forgot to photograph Nina Ultra Pro Brandywine, which I picked up on clearance at Sally. I wasn't even there for nail polish! But as always, the siren song was too strong to ignore. The display of China Glaze's Wizard collection was largely decimated (not that I was terribly hot for it to begin with), but they had a full display of the Nina Velvet collection, so I also grabbed Velvet Seas. I really like these Nina polishes -- very affordable and they apply nicely. The color selection doesn't offer an overwhelming amount to write home about, but if Purple-Xing and this Velvet collection are any indication, maybe there are more fun surprises in store.
I also didn't photograph Sally Hansen American Beauty. A Canadian exclusive! Sorry about that one.
So, here is where I was going to show you a picture of Sally Hansen Xtreme Wear Purple Pizzazz, but all my pictures were super bad. But! This is a really, really cool polish and it's so
purple
. Like grape popsicle purple. So it's this vibrant purple jelly base with either red or dark pink glitter (sometimes it looks red to me...sometimes more magenta/pink), and it applies very well. For whatever reason, it also stinks to high heaven, but then again so does all nail polish to some degree. This is the only new Xtreme Wear I bought, although Wet Cement, The Real Teal and Pacific Blue all looked interesting to me. I guess I felt they were too dupey or potentially dupey (especially the grey).
Wow...think of how many way more important things happened in the world in the time it took me to write that. Sorry.
Here is Zoya Astra, and I just have to say, holy wow.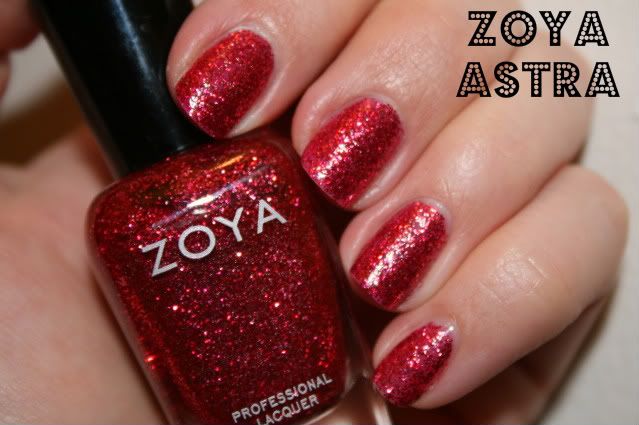 So this is light pink and dark pink glitter in a slightly pink jelly base, which, I'm guessing, is part of what allows these UltraGlitters to be opaque in two coats. I knew when this was going on that it would be a terrible pain to remove but, I just have to say, WORTH IT. After wearing this, I've decided I would really like a purple glitter just like it, with dark and light purple glitter in a light purple jelly base. (Perhaps the new Sparkles from Nubar will fit the bill). The effect is just stunning, way more stunning (in my opinion) than one single color of glitter. RECOMMEND.
Aaaaand that brings me to
yet another
color I didn't photograph: China Glaze Flying Dragon. I hated this polish: gloopy, muddy, gritty, gross. It's beautiful in the bottle and hopeless on the nail. I've heard other people say they have problems with this one, but, ugh. If you've ever eyed it, skip it.
Ugh -- I want to talk about Orly Nail Rescue, and Illamasqua and Rescue Beauty Lounge but that will all have to wait. More soon!