I saw the bottle pictures of this collection on
Scrangie's site
and ordered the whole thing immediately. I've never done that before! Although I did order 5 of the 6 shades in Misa's 9 to 5 collection, which was awesome. I really do love my Misas.
However, I think I might have jumped the gun a little. The colors in Surreal Escape are fine, but I'm not sure I really needed all six. (Inasmuch as anyone "needs" nail polish at all.)
First off, some quick nail wheel swatches.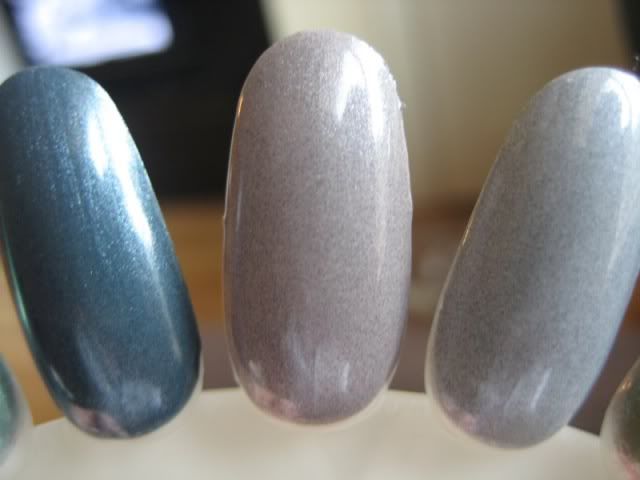 Beyond Infinity, Gray Matters, Spaced Out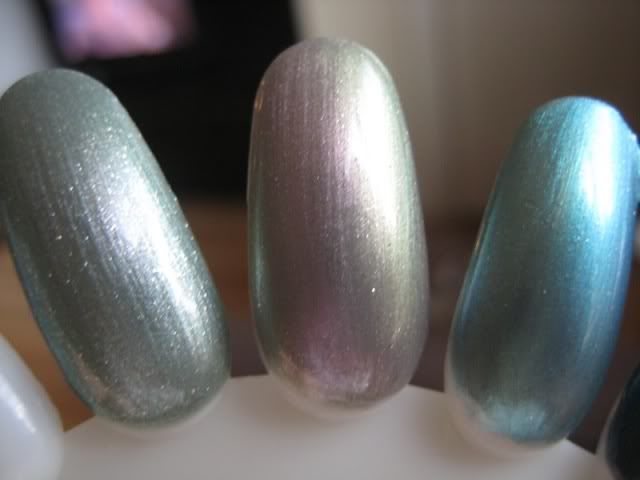 Phazers on Stunning, Shields Up, The Great Green Whatsit
Beyond Infinity
I've seen this dissed as a boring color, and I will concede it's not exciting. However, if you don't already have a gunmetal shade in your collection, or if you're just particularly fond of them, this is worth checking out (especially for the price). The shimmer is sophisticated and not frosty - no brushstrokes.
Phazers On Stunning
Please excuse the lighting on some of these, the weather was terrible today after a long stretch of perfectly gorgeous summery days.
This is three coats. The duochrome is quite evident, and the scattered silver sparkles just make it that much prettier.
The Great Green Whatsit
This leans a bit frosty and doesn't have much of a duochrome, but it does shift to blue a little bit. It reminds me of
Missha HGR01
, but GGW has those tiny flecks of silver glitter.
Shields Up
This is my least favorite of the collection, and if you have WnW Gray's Anatomy, Deborah Lippmann Wicked Game or OPI Not Like The Movies, you can skip this one. There is decent duochrome with Shields Up but even after three coats, it was almost totally sheer. Maybe it would look good over black? I'm not sure and frankly it annoys me because "it would look good over black" is not something I like to hear.
Gray Matters on pinkie and ring finger; Spaced Out on middle and index
I like both of these grays - Gray Matters is your standard concrete gray with black and silver specks; while Spaced Out is a more blue-toned gray with black and silver specks. These aren't shimmers per se...they're just subtly sparkly.
I've worn two of these shades (Gray Matters and Beyond Infinity) as full manicures and they both applied well and held up great, as I'm accustomed to with Misa polishes. I typically adore Misa's formula and these two were no exception. The other four all applied perfectly as well - easy to control. Drying time was a little long. All are nicely pigmented except for Shields Up.
If I had it to do again, I'd skip Shields Up, Beyond Infinity and one of the grays (probably Spaced Out, I'm a huge sucker for light grays).
If you don't have any Misa lacquers, I highly recommend them. The formula is reminiscent of a much more pricey brand, and if this collection is any indication, Misa may be back on track to create some amazing colors in the upcoming seasons.
Do you own any Misas? Did you buy anything from this collection?