In my continuing quest to seek out polishes from all across the globe, I ordered
Glitter Gal
Deep Green Sparkle sometime early this month. There was a slight delay in shipping (due to the supplier and not the US stockist) but my polish finally arrived last week!
Deep Green Sparkle is a scattered holo glitter in a dark green jellyish base. While the base is very dark it is indeed very definitely green, almost a very deep teal.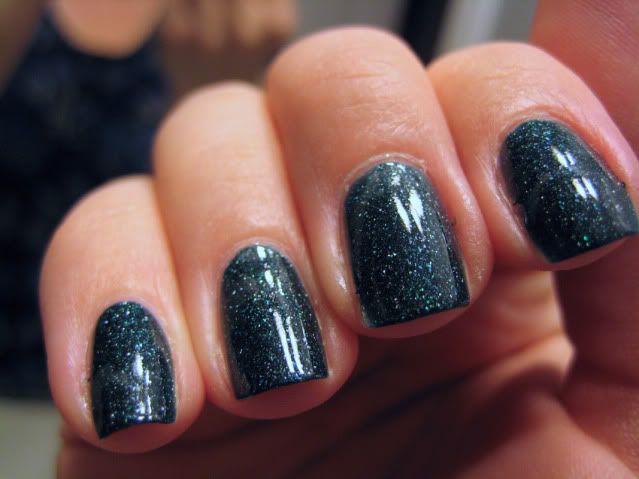 My photos of this are not the best I've ever done, I really should take some more in the sunlight. These were done pretty late at night, with dry cuticles because I had just removed my previous manicure (Chanel Graphite!). Forgive me.
The polish itself was pretty thick and tended to drag, so I stuck to thin coats and let the first coat dry quite a bit before doing the second, which worked great. Two coats were sufficient. I might thin the polish just a tiny bit, but not too much because it was very easy to control and I don't want it running all over the place.
The only "drawback" of Glitter Gal polishes is that they are small - 0.3 oz to be precise (OPI bottles contain 0.5 oz). It's so small that you might consider it a mini. This in itself isn't so bad, but they do cost $15 per bottle, making Glitter Gal one of the more expensive brands. However...consider the payoff...these are pretty unique!
This being said, I will not hesitate to buy a couple more of them. I like the quality and the US seller I went through (
she is on eBay
) was excellent so I am happy to give her my business. I heard that
Overall Beauty
will also be carrying Glitter Gal soon, too. I plan on pre-ordering the upcoming green and white (!!!) linear holos (!!!).
Lastly, a request: I am eagerly seeking some Rivka polishes from Brazil. If any of you have any advice/ideas on how I can purchase some, please let me know!