Good morning. Today I have for you one of the new Rescue Beauty Lounge polishes from the recent
Firebird
collection. I chose one shade from the collection, Piu Mosso, and pre-ordered it way back in July. I received it in late August and finally got around to wearing it yesterday.
Unfortunately my experience with Piu Mosso was not what I had hoped, in general and certainly not based on my previous experience with RBL polishes. However, some of that was definitely due to operator error and was not the fault of the polish - so I'll have to give it another try to know for sure. Perhaps my thoughts will be helpful if you're considering buying this shade.
I chose Piu Mosso because of the gorgeous murky blue base color and the sunset-orange shimmer.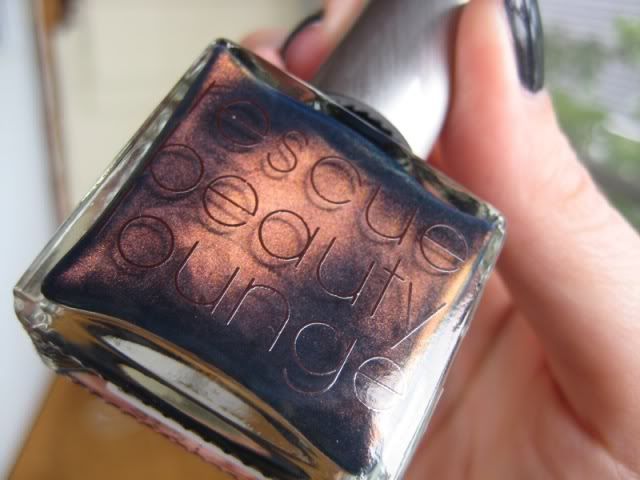 Doesn't it look awesome? Amazing? Delightfully unique? Well in the bottle, it is.
Part of me knew the shimmer would not be that strong or dramatic on the nail but...I couldn't help hoping otherwise. You do get flashes of it from time to time: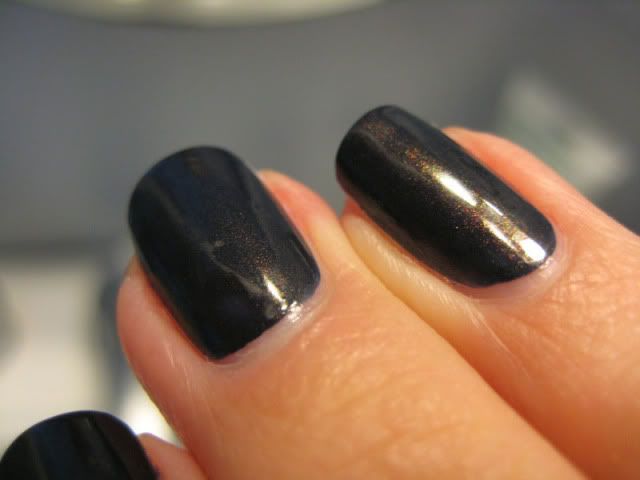 But mostly, it looks like this.
Indoor lighting
Natural lighting
In the picture above, you can see a bit of the dragging (near the cuticle on my middle finger) and the dullness of the finish. These are two of the issues I had with Piu Mosso.
To be fair, I didn't exactly set myself up for success with this manicure. I put the polish on at around 11pm, when I should have been going to bed. I was dead tired, exhausted actually; and to make matters worse I decided it would be okay to drink a Diet Coke before/during doing my nails. So my application skills were probably not what I would call "ideal." I was impatient and cranky and probably rushed a little.
However.
The formula was definitely thick and definitely difficult to control. It was pasty, resulting in drag marks like you can see in the picture above. I did a very thin first coat but went fairly thick on the second coat; this would also prove a bad idea when not 10 hours later the manicure began chipping. (I do think that's my fault...I used too thick of a second coat.)
I used Seche Vite as a top coat. I don't remember this giving me problems with RBL previously but I'll definitely try something different with Piu Mosso next time. The chipping got much, much worse and I actually removed the polish less than 24 hours after putting it on. Typically I leave manicures on for at least 2-3 days and if I need to, I often get 5-6 days of wear. So this was annoying.
I dearly love my other RBL polishes - they are heavily pigmented, easy to apply and have good wear with my usual base coat/top coat combination. I might try a couple drops of thinner in Piu Mosso.
The fact is, however, that none of these tactics will change the fact that the color isn't quite what I'd hoped. Someone suggested trying Piu Mosso over another polish with a similar base color, and I'm willing to give that a try as well.
The biggest bummer of all is that when you lightly swipe a cotton ball soaked in acetone over the polish, it lifts up just enough of the murky blue to let that coppery orange shimmer really glow. ARGH!