FIERCE!!
It's appropriate that I've bought this polish the same week the new season of
America's Next Top Model
starts up again. I'm not watching it this season ("All-Stars"...too crazy) but if you are, or if you have ever seen it in the past, or know anything about Tyra Banks whatsoever, then you know that the show and the word "fierce" are inextricably linked.
Anyhow. It was during a random trip to Rite Aid that I finally found the new Revlon Edgy Elegance display. I've been cruising the drugstores lately looking for the Wet 'n' Wild Halloween release, along with new stuff from L'Oreal and Revlon, and coming up with nada for the most part.
(My CVS in particular is useless for this right now. All the cosmetics special display space is taken up by Burt's Bees products, Garnier hair color (??) and the woefully boring WnW "Go With The Flow-er" display from early summer. GAH!)
Revlon nail products are BOGO 1/2 off at the moment, so I scrounged another Just Tinted topcoat (not in love with it...more on this in a minute) and picked Fierce from the Edgy Elegance collection.
Revlon Fierce
Fierce can best be described as a violet-leaning silvery purple foil. The formula on this was thick thick thick but easy to control. It could possibly be a one-coater.
With flash, indoors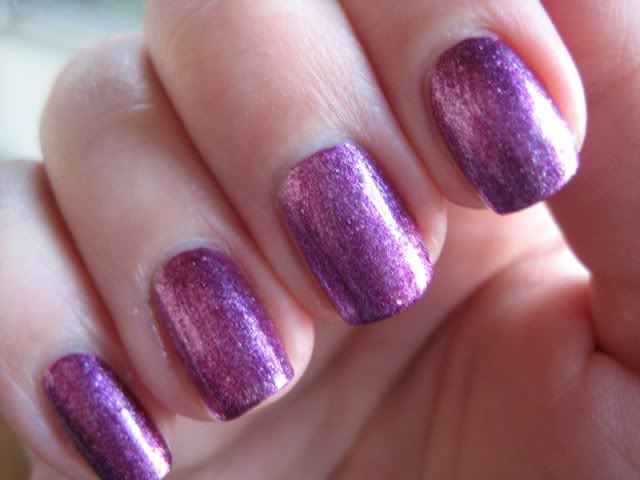 In natural light
So I mentioned the Just Tinted topcoat. I heard that this was akin to Seche Vite but without the shrinkage issues, so last time I was in a Walgreens I took a peek and found one hanging around. I picked up another bottle at Rite Aid because of the 1/2 off sale. I figured the likelihood of this playing well with another Revlon product was high, so I gave it a try with Fierce.
Well. First of all, a lot of color came up on the brush. I'm not sure if that's the fault of the topcoat or the polish (or me). Otherwise it applied very well, but it took forever to dry. (It doesn't claim to be a quick dry top coat anywhere on the bottle, I just thought that was worth noting.) It's shiny, but not as shiny as SV or Sally Hansen Insta-Dri. My nails were tacky for a very long time and in fact were still dentable this morning - although now the dent has disappeared...which is strange yet sort of awesome.
I'll definitely try the Just Tinted topcoat with another polish and see how that goes. It's not horrible by any means but I suspect it wasn't at its best over Fierce. And I do love Fierce, so I want to wear it with an awesome top coat.
Incidentally, the stickers on the caps of the Edgy Elegance polishes say "New Shade" rather than "Limited Edition." So perhaps they will become core, which is good news for those whose local drugstores are a bit slow on the uptake. (Ahem, northeast Ohio.)