Hello, friends.
I have a few pictures of some seasonal collections to share. Which do you want first, the good news or the bad news?
Let's get the bad news out of the way first. I purchased two polishes from the China Glaze Halloween collection, including Mummy May I, which is a blackened purple jelly with fuchsia glitter.
Would it be weird if I told you that prior to writing this post, I drafted out several paragraphs explaining my complicated feelings about China Glaze? Well, I did, and while I won't bother to repost every word of it here, I will say this: Sometimes, China Glaze really bums me out, which is a shame. They create a lot of excitement about their seasonal collections, and it's nice when you as a consumer feel like the company shares your enthusiasm for the product and "gets" you in that regard.
But...for me...the payoff is never really there. Primarily I think this is probably some weird body chemistry issue - not all brands work for all people - or perhaps it's the base coat/top coat products I use. Getting it on is, quite simply, a struggle. I blame this to some extent on the skinny, moppy brush which prevents me from having any application control whatsoever. But that could be managed if I didn't always find China Glaze's formula to be simultaneously goopy, gummy and runny.
I do have some China Glaze colors (Ruby Pumps, Emerald Sparkle, Stroll) that I love. They've never given me trouble. But sadly my results with Mummy May I were not pretty. First, the application was a total pain. I did three coats, which, when you are dealing with a thick, pasty jelly polish, takes a long time to dry. Plus the glitter makes it lumpy, though a VERY thick coat of Seche Vite remedied that somewhat. Later in the day I had significant tip wear, and a big chip on my thumb about 3-4 hours after applying the polish.
There are just a few things I ask for in a nail polish: For the glitter not to be so thick and chunky that it won't stay properly on the nail, leaving me with jaggedy glitter bits sticking off the end of my free edge; and for it to either be THICK or THIN but not both things at once. How can a nail polish be both impossible to spread over the nail properly *AND* so runny that it insists on flooding your cuticles? How?
So, I removed it. Which of course was a huge pain because of the gritty chunky glitter.
After sandblasting glitter off my nails I was really in the mood for a nice no-drama creme, so I picked Sally Hansen Complete Salon Manicure in Gray by Gray.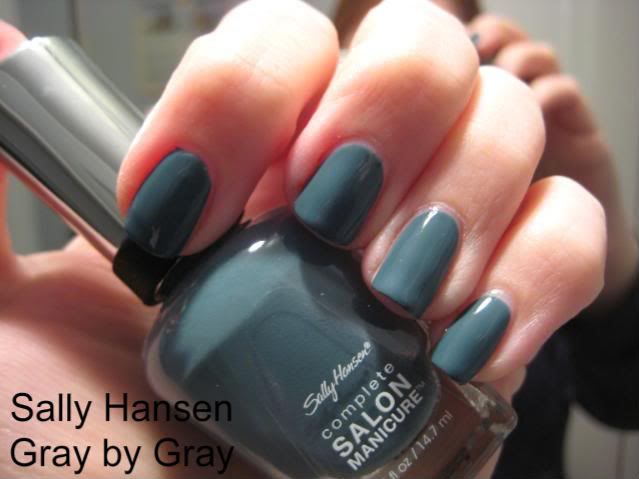 This is what I am talking about, friends. Really delightful. I was scared at first of the huge paddle brush but it works really well for me. This went on like a dream - Illamasqua or RBL quality, in my opinion. I wore it for four days with no tip wear.
Christmas/New Year collections are always quite fun, and though I've passed on the OPI Burlesque collection thus far, I did pick up a few of the Nicole holiday Target exclusives.
Fell from the Tree, Sensational Scarlet, Pitch-Black Glimmer.
Fell from the Tree. For some reason my pictures of this pull very teal, when in reality this is very definitely green. (Check out
Scrangie's
pictures of the collection
here
.)
I guess the next thing I'm excited to see are the OPI holiday exclusives for Ulta and Trade Secret. They're more difficult to get a hold of, but that's part of the fun. I picked up Visions of Sugarplum and Pomegranate Me A Wish from these collections last year, and they're two of my favorite OPI shades.
Are you picking up any holiday shades this year?